Autophagy and multidrug resistance in cancer
Chinese Journal of Cancer
2017
36:52
Received: 7 November 2016
Accepted: 10 January 2017
Published: 24 June 2017
Abstract
Multidrug resistance (MDR) occurs frequently after long-term chemotherapy, resulting in refractory cancer and tumor recurrence. Therefore, combatting MDR is an important issue. Autophagy, a self-degradative system, universally arises during the treatment of sensitive and MDR cancer. Autophagy can be a double-edged sword for MDR tumors: it participates in the development of MDR and protects cancer cells from chemotherapeutics but can also kill MDR cancer cells in which apoptosis pathways are inactive. Autophagy induced by anticancer drugs could also activate apoptosis signaling pathways in MDR cells, facilitating MDR reversal. Therefore, research on the regulation of autophagy to combat MDR is expanding and is becoming increasingly important. We summarize advanced studies of autophagy in MDR tumors, including the variable role of autophagy in MDR cancer cells.
Keywords
AutophagyDrug resistanceNeoplasmsCell survivalCell death
Background
Biosynthesis and degradation are two processes involved in the maintenance of metabolic homeostasis, which is the basis of all biological activities. The major protein degradation systems include the ubiquitin–proteasome pathway (targeting short-lived and misfolded proteins) and the lysosome-autophagy system (targeting long-lived macromolecular complexes and organelles) [1, 2]. Accumulating evidence indicates that autophagy plays a vital role in maintaining homeostasis in cells, and deficient autophagy seriously impacts embryonic differentiation. Autophagy is also closely related to the development of many diseases, including Alzheimer's disease, cancer, and microorganism infection [3, 4]. Autophagy is a highly conserved cellular process in which cytoplasmic materials are degraded and recycled to maintain energy homeostasis. Autophagy can be classified as macroautophagy, microautophagy, and chaperone-mediated autophagy [5]. Given that current researches primarily focus on macroautophagy and the mechanisms are more clearly established than other types of autophagy, the term "autophagy" is commonly used to refer to macroautophagy.
Autophagy is a successive process which is initiated by the formation of an isolation membrane called phagophore. The phagophore is often seen as a thin cisterna with a clear lumen and is the structure that recruits autophagy-related proteins to induce autophagy. This lipid-based membrane then elongates and creates a complete, closed, double-membrane structure containing damaged organelles or long-lived proteins. Ultimately, autolysosomes are formed to degrade the contents, recycling amino acids, fatty acids, and nucleotides to maintain energetic homeostasis and viability [4, 6]. Autophagy occurs frequently during tumorigenesis and cancer chemotherapy. In general, constructive autophagy protects cancer cells during chemotherapy, leading to cancer drug resistance and refractory cancer [7].
Multidrug resistance (MDR) is another refractory outcome of chemotherapy and is defined as the resistance of cancer cells to multiple chemotherapeutic drugs with different structures and mechanisms of action [8]. MDR is a major cause of chemotherapy failure and responsible for increasing cancer-related mortality. Interestingly, recent mechanistic investigations have demonstrated that autophagy pathways are involved in the development of MDR [9]. Recent studies have explored approaches of using autophagy to hijack MDR cancer cells during anticancer therapy, but the mechanisms underlying the relationship between autophagy and MDR have not been fully studied.
Mechanisms of autophagy
Autophagy is a highly conserved cellular process. Approximately 30 autophagy-related genes (Atgs) in yeast and many mammalian genetic homologs have been identified [10]. Atgs are essential in responses to microenvironmental stresses such as hypoxia, heat stress, and accumulation of reactive oxygen species (ROS). Autophagy proceeds in successive stages, including initiation of phagophore assembly, autophagosomal formation, and lysosomal fusion [11, 12]. Here, we briefly discuss some primary pathways that regulate autophagy.
Mechanisms of MDR
Mechanisms of MDR can be divided into seven categories: (1) increasing drug efflux by membrane transporters, with ATP-binding cassette (ABC) transporters as the main transporters [
30
]; (2) reducing drug uptake by influx transporters, such as solute carriers [
31
]; (3) boosting drug metabolism, including elimination by glutathione S-transferase and cytochrome P450 enzymes [
32
,
33
]; (4) blocking apoptotic signaling pathways due to change in the expression level of B cell lymphoma (BCL) family proteins or mutations in the p53 pathway [
34
,
35
]; (5) elevating adaptability by epigenetic regulation and miRNA regulation [
36
,
37
]; (6) mutation in drug targets or feedback activation of other targets and signaling pathways [
38
]; and (7) chemoresistance induced by changes in the microenvironment, such as hypoxia response and cancer stem cell regulation [
39
,
40
] (Fig.
1
). Cellular-based resistant mechanisms are further classified into transporter-based classical MDR phenotypes and non-classical MDR phenotypes.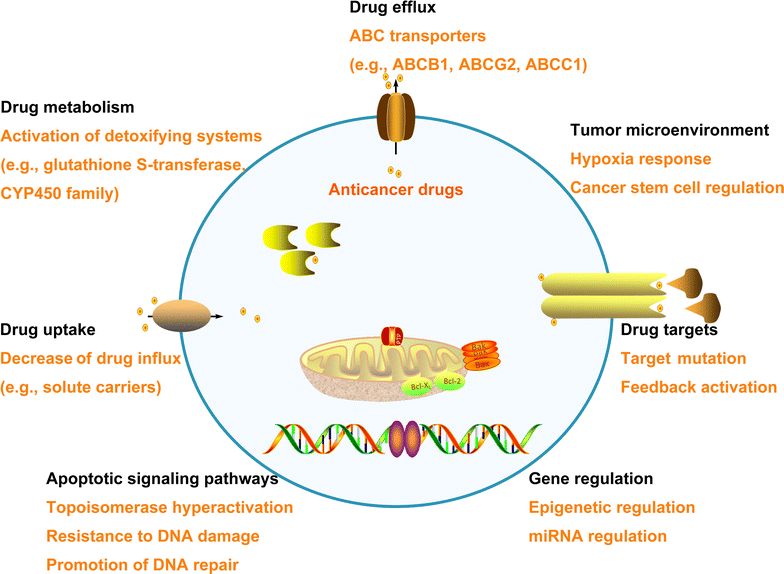 The ABC superfamily contains 49 different types of transporters and can be classified into seven subfamilies from ABC-A to ABC-G based on sequence similarities and structural organization [9]. Among them, P-glycoprotein (P-gp/ABCB1), multidrug-resistant protein 1 (MRP1/ABCC1), breast cancer resistant protein (BCRP/ABCG2/MXR/ABCP), and multidrug-resistant protein 10 (ABCC10/MRP7) transporters frequently drive chemosensitive cancers to MDR [41]. Human ABCB1 was the first identified ABC transporter. Overexpression of ABCB1 contributes to resistance against a wide variety of chemotherapeutic drugs. ABCC1 also leads to resistance to a wide range of anticancer drugs, and extensive evidence indicates that resistance of cancer cells to mitoxantrone, saquinavir, epipodophyllotoxins, and anthracyclines is mediated by ABCC1 [42–45]. The ABCG2 transporter is primarily expressed in breast cancer, colon cancer, gastric cancer, small cell lung cancer, and ovarian cancer [31]. ABC transporters are recognized as chief culprits in the development of MDR. Therapies continue to be developed with the goal of blocking or inactivating ABC transporters to increase the concentration of anticancer drugs within cells [46].
The relationship between autophagy and MDR
Chemotherapeutic agents that kill cancer cells primarily act by inducing apoptosis. Deficient apoptosis has been proposed to contribute to the development of MDR. Thus, alternative anticancer drugs that can directly induce apoptosis of MDR cancer cells would be valuable. However, the inactivation of apoptosis pathways adds to the complexity and difficulty of the development of such drugs. Importantly, MDR is inevitable following prolonged exposure to a new agent. Accordingly, other types of programmed cell death in MDR cells have attracted increasing attention, with autophagy emerging as a promising candidate.
Complex and controversial evidence indicating a role of autophagy in tumorigenesis has emerged in recent years. Autophagy can play a protective role against cancer by eliminating damaged organelles and recycling degradation products in normal cells. Paradoxically, excessive autophagy can devote cancer cells to "autophagic cell death" or "type II programmed cell death." Thus, autophagy induced by metabolic and therapeutic stresses can have a pro-death or pro-survival role. Autophagy also plays dual roles in tumorigenesis, tumor progression, and resistance of cancer cells to chemotherapy [47]. Autophagy can be activated as a protective mechanism to mediate MDR during treatment. Thus, the inhibition of autophagy can re-sensitize resistant cancer cells and enhance the effect of chemotherapeutic agents. However, autophagy may also induce autophagic cell death, which differs from type I programmed cell death (apoptosis). Thus, autophagy can be used to promote the efficacy of treatment on MDR cancer if applied properly, and the role of autophagy in MDR must be clarified.
Conclusions
In recent years, a large body of evidence has indicated that autophagy plays dual roles in MDR. The pro-death or pro-survival roles of autophagy are highly dependent on the tumor type and treatment characteristics. Autophagy protects MDR cancer cells from apoptosis and promotes resistance to chemotherapy treatment, and inhibition of autophagy may sensitize MDR cells to anticancer drugs. The combination of autophagy inhibitors with cytotoxic drugs is highly anticipated. Excitingly, CQ and its derivative HCQ, in combination with several anticancer drugs, have been approved to augment cytotoxicity and to sensitize refractory cancers. They are expected to be used in the battlefield of MDR tumor. On the other hand, autophagic cell death which is induced by autophagy inducers could directly bypass apoptosis and ultimately eliminate MDR cells. It represents a new battle line in the fight against MDR cancer. On the other battleground, emerging evidence demystifies that autophagy is a strong propulsor to sensitize apoptosis-resistant MDR cells to anticancer drugs and reverse MDR. It shows a novel biological function of autophagy in MDR cancer cells and will enable the development of promising strategies to overcome MDR. Although the exact mechanisms of the interaction between autophagy and MDR reversal remain obscure, it provides us a vast research space to elucidate the mysteries.
Declarations
Authors' contributions
All authors contributed substantially to the writing of this review. All authors read and approved the final manuscript.
Acknowledgements
This study was supported by the Science and Technology Program of China (2012ZX09103101-053), the Natural Science Foundation of Guangdong Province (S2013050014183 and 2013CXZDA006), and the Program for New Century Excellent Talents in University (D. M. Zhang), and the project was supported by Guangdong Province Universities and Colleges Pearl River Scholar Funded Scheme (D. M. Zhang).
Competing interests
The authors declare that they have no competing interests.
Open AccessThis article is distributed under the terms of the Creative Commons Attribution 4.0 International License (http://creativecommons.org/licenses/by/4.0/), which permits unrestricted use, distribution, and reproduction in any medium, provided you give appropriate credit to the original author(s) and the source, provide a link to the Creative Commons license, and indicate if changes were made. The Creative Commons Public Domain Dedication waiver (http://creativecommons.org/publicdomain/zero/1.0/) applies to the data made available in this article, unless otherwise stated.
Authors' Affiliations
(1)
Institute of Traditional Chinese Medicine & Natural Products, College of Pharmacy, Jinan University, Guangzhou, P. R. China
(2)
Department of Pharmaceutical Sciences, College of Pharmacy and Health Sciences, St. John's University, Queens, USA