Whole exome sequencing and single nucleotide polymorphism array analyses to identify germline alterations in genes associated with testosterone metabolism in a patient with androgen insensitivity syndrome and early-onset colorectal cancer
Chinese Journal of Cancer
2016
35:51
Received: 15 October 2015
Accepted: 10 March 2016
Published: 7 June 2016
Abstract
Background
Androgen insensitivity syndrome (AIS), a disorder of sexual development in 46, XY individuals, is caused by loss-of-function mutations in the androgen receptor (AR) gene. A variety of tumors have been reported in association with AIS, but no cases with colorectal cancer (CRC) have been described.
Case presentation
Here, we present a male patient with AIS who developed multiple early-onset CRCs and his pedigree. His first cousin was diagnosed with AIS and harbored the same AR gene mutation, but with no signs of CRC. The difference in clinical management for the two patients was that testosterone treatment was given to the proband for a much longer time compared with the cousin. The CRC family history was negative, and no germline mutations in well-known CRC-related genes were identified. A single nucleotide polymorphism array revealed a microduplication on chromosome 22q11.22 that encompassed a microRNA potentially related to CRC pathogenesis. In the proband, whole exome sequencing identified a polymorphism in an oncogene and 13 rare loss-of-function variants, of which two were in CRC-related genes and four were in genes associated with other human cancers.
Conclusions
By pathway analysis, all inherited germline genetic events were connected in a unique network whose alteration in the proband, together with continuous testosterone stimulation, may have played a role in CRC pathogenesis.
Keywords
Androgen insensitivity syndromeAndrogen receptorColorectal cancerSingle nucleotide polymorphism arrayTestosteroneWhole exome sequencing
Background
Tissue resistance to androgens (i.e., testosterone and its 5α-reduced product dihydrotestosterone) leads to androgen insensitivity syndrome (AIS). AIS is the most well-known specific cause of the 46,XY disorder of sex development (DSD), but estimates of its prevalence vary widely, depending on the molecular assessment method used for diagnosis [1–3]. Pathogenesis of this disorder is essentially the result of mutations in the androgen receptor (AR) gene, but as clearly stated by Gottlieb et al. [4], "… solely identifying the genotype of an AIS individual may no longer be sufficient to draw conclusions about the effect of an AR mutation on the persons' phenotype…". The AR gene, located on chromosome Xq11–q12, contains eight exons and seven introns spanning ~90 kb of DNA. It encodes for the androgen receptor, which is a transcription factor and a member of the steroid hormone receptor family within the nuclear receptor superfamily [2]. AR is the only gene linked with AIS. More than 500 different AR mutations, distributed throughout the gene sequence, have been reported [3]. Furthermore, there is variable phenotypic expression related to specific mutations, with identical mutations linked to different phenotypes [3]. The clinical manifestations of AIS vary from the complete form (CAIS), where testosterone has no effect on sexual development and the genitals are entirely female, to milder degrees of undervirilization (the partial form; PAIS) or the mild form (MAIS) in which males have gynecomastia and/or infertility. The lifetime risk of development of neoplasms in patients with AIS, even though not defined accurately due to the small size of the analyzed series, was reported to be 0.8% for CAIS and 5.5%–15% for PAIS, with tumors originating from testicular germ cells, testicular stromal cells, or other mesenchymal cells [5–8].
To date, no cases of AIS with a documented history of colorectal cancer (CRC) have been described. In this paper, we describe the clinical and molecular analyses of a proband affected by PAIS who developed multiple CRCs. The patient presented with primary CRC at an early age (27 years). With the aim of identifying the constitutional genetic events that could have played a role in the early onset of CRC in the proband, we used a combination of two advanced high-throughput technologies: (i) high-resolution single nucleotide polymorphism (SNP) array analysis to investigate copy number variation (CNV) and uniparental disomy (UPD) events and (ii) whole exome sequencing (WES) analysis to investigate single nucleotide variants (SNVs) and small insertions and deletions (INDELs). A set of inherited germline genetic variations that may be responsible for CRC pathogenesis were identified in this patient.
Case report
Herein, we report a 46,XY male patient (III.2 of the family presents in Fig.
1
) who, at birth (1983), presented with undescended testes, severe hypospadias, and a micropenis and who received a clinical and molecular diagnosis of PAIS. At 6 months of age, adrenal hormone dosage results were normal, which excluded adrenal disease. Testosterone enanthate (250 mg every 2 weeks through intramuscular injection) was provided regularly from age 3 to 27 years. At 10 years of age, adrenocorticotropic hormone and beta human chorionic gonadotropin tests excluded a deficit in 5α-reductase. At 13 years of age, gynecomastia was recorded. The proband developed CRC at 27 years old and underwent a left hemicolectomy; at postoperative pathologic examination, the tumor was diagnosed as a G2, stage pT1N0 rectosigmoid adenocarcinoma. When he was 30 years old, a metachronous CRC was diagnosed and treated with segmental resection; at postoperative pathologic examination, the tumor was diagnosed as a G2, stage pT3N0 adenocarcinoma. The tumor relapsed locally 4 months later and was treated with radiotherapy, chemotherapy (capecitabine), and surgical proctectomy. At present, the disease is in progression.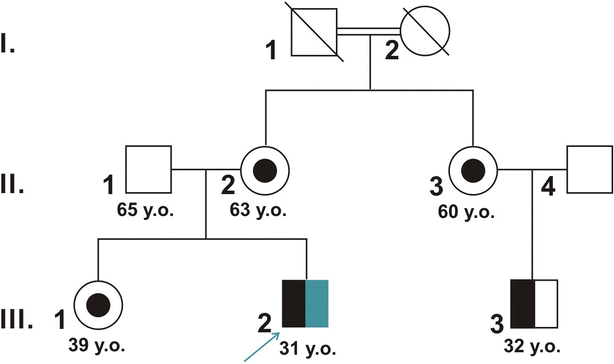 The family history of CRC was negative. The proband was tested for germline mutations in the genes responsible for major CRC syndromes using Sanger sequencing [9–11], but no pathogenic mutations were identified (Additional file 1: Table S1). Immunohistochemical characterization of mismatch repair proteins as well as microsatellite instability analysis were performed as reported [12–14] on the primary CRC tissue. The normal staining pattern for all proteins is nuclear, and a case is considered positive only in the presence of nuclear staining of neoplastic cells. A case is considered defective for the expression of one protein only when there is a complete absence of nuclear staining of neoplastic cells in the presence of an unquestionable internal positive control represented by normal epithelial cells, stromal cells, muscle cells, or lymphocytes. The proband's CRC tissue revealed no alterations in mismatch repair proteins.
The proband's cousin (III.3) was also diagnosed with PAIS. He underwent gynecomastia, hypospadia, and cryptorchidism corrective surgeries, and testosterone enanthate (250 mg every 2 weeks through intramuscular injection) was provided in an irregular regimen from age 15 to 20 years. At present, the cousin is healthy.
Molecular analysis of the AR gene through Sanger sequencing [15] of DNA from both III.2 and III.3 revealed a missense mutation in AR exon 7 (NM_000044: c.G2522A; NP_000035.2: p.R841H). By segregation analysis, the AR mutation was found to be inherited from their healthy mothers (II.2, II.3), who were born from consanguineous parents. Furthermore, this variant was present in the DNA of the proband's sister (III.1).
Discussion
This study provided a deep genomic analysis using SNP array and WES data of the constitutive DNA of a patient harboring the missense c.2225G > A (p.R841H or rs9332969) mutation of the AR gene. It has been reported that the R841H protein variation influences its binding to and interactions with androgens [21]; however, this substitution does not result in complete AR functional disruption [22] and gives rise to variable expression of the AIS phenotype [2, 23], suggesting that alterations in other genes may modulate and affect the final phenotype. Our SNP array and WES analysis of both affected cousins in this study did not reveal the presence of additional causative genetic events responsible for the PAIS phenotype, thus strongly supporting the pathogenic role of the p.R841H variant in PAIS.
Our proband patient developed multiple CRCs at an early age, suggesting a hallmark of inherited cancer susceptibility along with familial aggregation [24, 25]. Moreover, it has been recently reported that genetic instability could explain the early onset of CRC [18]. Germline alterations in the major CRC-associated genes adenomatous polyposis coli (APC), mutY homolog (MUTYH), mutL homolog 1 (MLH1), mutS homolog 2 (MSH2), and mutS homolog 6 (MSH6) were previously excluded. In this study, we employed two advanced high-throughput technologies, namely SNP array and WES, to investigate the involvement of other genetic susceptibility mechanisms responsible for early onset of CRC.
Among the 14 CNVs identified by the SNP array, four involved genes (SPSB1, CTNNA3, IGHG1, and CRFL2) have been implicated in tumorigenesis, however, other than in colon cancer, thus only one rearrangement, a duplication of the chromosomal region 22q11.22, may be of interest and relevant to this study. The amplified chromosomal region included MIR650, which has among its targets the promoter region of the NDRG family member 2 (NDRG2) tumor suppressor gene where it has been reported to be able to repress NDRG2 gene expression at the transcriptional level in CRC [26].
Among the 26 variants identified by WES following the candidate gene approach, a literature search revealed that the APC, caspase 8, apoptosis-related cysteine peptidase (CASP8), ERBB2, MLH1, and PTPRJ gene variants have been previously investigated to verify their roles in cancer predisposition (see all the references in Additional file 7: Table S7). Even if no clear pathogenic mutations responsible for CRC insurgence were identified, it is worth noting that rs1058808 in the ERBB2 gene, present in the heterozygous state, is harbored in the regulatory C-terminal domain of the ErbB2 protein. This protein represents a hub of the protein–protein interaction network associated with the ErbB2 receptor, which plays a crucial role in signaling cascades regulating cell growth, differentiation, and migration [27]. Furthermore, previous studies investigating the role of the rs1058808 polymorphism have suggested that it may represent a functional polymorphism inducing the overexpression of the ErbB2 protein [28, 29]. At present, in a series of 104 sporadic CRC patients, three mutations in the ERBB2 kinase domain have been found [30]; however, the mutation identified in the proband patient was located in a different region. Finally, our WES approach identified 13 genes harboring loss-of-function variants in the heterozygous state in the proband.
The analysis of the prioritized genes harboring the loss-of-function variants combined with the ERBB2, AR, and MIR650 genes through IPA software revealed that 14 of the 16 genes were connected in a unique network, called the "Gene expression, cellular growth and proliferation, tissue development" network. The core molecular hub in this network is represented by seven genes (MIR650, alcohol dehydrogenase, iron containing 1 [ADHFE1], charged multivesicular body protein 2A [CHMP2B], DENN domain containing 2D [DENND2D], kalirin RhoGEF kinase [KALRN], meprin A subunit alpha [MEP1A], and transglutaminase 4 [TGM4]) connected with AR and ERBB2, revealing an altered cross-talk between these two signaling pathways. From the literature, four of these six genes (CHMP2B, DENND2D, KALRN, and TGM4) have been previously identified as being involved in oncogenesis, while 3 (MIR650, ADHFE1, and MEP1A) may be related to CRC development and differentiation (see all the references in Additional file 8: Table S8). Considering the genes connected in the network but that were not altered in sequence, the presence of the interleukin-6 (IL-6) gene and its relation to MEP1A are also noteworthy. Indeed, IL-6 has been shown to be increased in Meprin KO mice [31], and IL-6 has been found to be up-regulated in colon cancer tissues and significantly associated with an increased risk of relapse [32]. Moreover, it should be noted that, among these 14 connected genes, five were not altered in the cousin. Testosterone, indirectly connected with TGM4 and ERBB2, was provided continuously for 24 years to the proband, including developmental years, whereas only 5 years of discontinuous treatment was provided to the cousin after age 15 years.
In physiologic conditions and in the presence of an active AR, the activity of testosterone and dihydrotestosterone hormones can be modulated by (i) a classic genomic model mediated by the cytosolic AR protein and (ii) a non-genomic model mediated by the functional membrane AR [33]. Since membrane AR activation via testosterone induces cytosolic signaling cascades involving molecules belonging to the ERBB2 pathway, it is tempting to hypothesize the possible existence of cross-talk between testosterone, membrane AR, and ErbB2 protein [34–38]. Considering the role of testosterone in CRC development, the literature indicates that the risk of CRC shows sexual dimorphism, with a higher incidence and earlier onset in men [39]. Whether this disparity depends on protective factors in women, tumor-promoting factors in males, or both, is unknown. A recent epidemiologic study indicated that, in men with functional AR protein, higher levels of testosterone and sex hormone-binding globulin were associated with a decreased risk for developing CRC, but lower androgenicity may increase the risk of developing CRC in males [40, 41]. A tumor-promoting effect of testosterone, likely not dependent on AR activity, has been reported via the elegant use of the APCPirc/+ (Pirc) rat model, suggesting that sex disparity in the development of colonic adenomas depends directly on the effect of testosterone, rather than on a protective effect of female hormones [42]. Testosterone has been shown to stimulate the growth of lung and colon cancer cells in vitro, a mechanism that can be halted with anti-androgens [43, 44]. A population-based study that aimed to verify the association between plasma testosterone and overall cancer risk revealed that increased levels of plasma testosterone were associated with an increased risk of early death after cancer, but not with risk of cancer incidence [45]. Putting all these factors together, these observations suggest a potential effect of testosterone on cancer development and prognosis.
Thus, we speculate that testosterone treatment may have played a role in the initiation of cancer in the colon tissue of the proband, probably exerting a direct interaction with the poorly or non-functional cytosolic AR protein or an indirect action through the membrane AR protein. This could have led to the activation of a cytosolic signaling cascade involving the ErbB2 protein, which may have a functional effect in the patient.
Conclusions
The etiology of CRC is complex and multifactorial, involving an interplay between multiple genetic and environmental factors. Our in-depth genetic analysis of the proband and his family supports the hypothesis that the identified genetic alterations, in a multi-hit model of the inheritance of common and rare variants in multiple genes, might have contributed to the early onset of CRC in combination with environmental factors, such as a potential iatrogenic effect due to a continuous high-dose treatment with testosterone during developmental years. To confirm the relevance of the identified network of genes and molecules in CRC predisposition, further AIS families and preclinical model systems should be analyzed. Moreover, these findings highlight the importance of these types of studies to develop a better understanding of the molecular basis of a disease and, consequently, for better clinical management of patients.
Consent
All experiments were approved by the Ethical Committee of Fondazione IRCCS Istituto Nazionale dei Tumori (Milan, Italy). A written informed consent was obtained from all subjects for publication of individual patient data.
Declarations
Authors' contributions
All authors participated in the manuscript revision. VD, LDC, SS, LB and MV participated in the conception and design of the study; MM performed the histopathological revision; and IHC, OP and MC performed the SNP array experiments and related bioinformatics analysis; VD, LDC and PD performed the WES experiments; VD, OP and MC performed the interpretation of the SNP array data; VD and AD carried out the bioinformatics analyses and interpretation of the WES data; GV critically revised the WES data and manuscript; MAP critically revised the manuscript and provided funding to the project; VD, LDC, SS and SC coordinated and finalized the manuscript drafting and revision. All authors read and approved the final manuscript.
Acknowledgements
We would like to thank the family for participating in this research and allowing us to share the findings. We also thank Affymetrix (Affymetrix Inc. Santa Barbara, USA) for providing the arrays for this study.
This work was supported in part by funds obtained through an Italian law that allows taxpayers to allocate 0.5 percent share of their income tax contribution to a research institution of their choice.
Competing interests
The authors declare that they have no competing interests.
Open AccessThis article is distributed under the terms of the Creative Commons Attribution 4.0 International License (http://creativecommons.org/licenses/by/4.0/), which permits unrestricted use, distribution, and reproduction in any medium, provided you give appropriate credit to the original author(s) and the source, provide a link to the Creative Commons license, and indicate if changes were made. The Creative Commons Public Domain Dedication waiver (http://creativecommons.org/publicdomain/zero/1.0/) applies to the data made available in this article, unless otherwise stated.
Authors' Affiliations
(1)
Department of Experimental Oncology and Molecular Medicine, Functional Genomics and Bioinformatics, Fondazione IRCCS Istituto Nazionale dei Tumori, Milan, Italy
(2)
Medical Genetics Unit, IRCCS Casa Sollievo della Sofferenza, San Giovanni Rotondo FG, Italy
(3)
Department of Pathology and Laboratory Medicine, Fondazione IRCCS Istituto Nazionale Tumori, Milan, Italy
(4)
Department of Biology, University of Padova, Padua, Italy
(5)
Fondazione IRCCS Istituto Nazionale dei Tumori, Milan, Italy
(6)
Hereditary Digestive Tract Tumors Unit, Department of Preventive and Predictive Medicine, Fondazione IRCCS Istituto Nazionale dei Tumori, Milan, Italy
(7)
Colorectal Surgery Unit, Department of Surgery, Fondazione IRCCS Istituto Nazionale dei Tumori, Milan, Italy