Cytokine-induced killer (CIK) cells: from basic research to clinical translation
Chinese Journal of Cancer
2015
34:6
Received: 18 August 2014
Accepted: 14 December 2014
Published: 5 March 2015
Abstract
The accumulation of basic researches and clinical studies related to cytokine-induced killer (CIK) cells has confirmed their safety and feasibility in treating malignant diseases. This review summarizes the available published literature related to the biological characteristics and clinical applications of CIK cells in recent years. A number of clinical trials with CIK cells have been implemented during the progressive phases of cancer, presenting potential widespread applications of CIK cells for the future. Furthermore, this review briefly compares clinical applications of CIK cells with those of other adoptive immunotherapeutic cells. However, at present, there are no uniform criteria or large-scale preparations of CIK cells. The overall clinical response is difficult to evaluate because of the use of autologous CIK cells. Based on these observations, several suggestions regarding uniform criteria and universal sources for CIK cell preparations and the use of CIK cells either combined with chemotherapy or alone as a primary strategy are briefly proposed in this review. Large-scale, controlled, grouped, and multi-center clinical trials on CIK cell-based immunotherapy should be conducted under strict supervision. These interventions might help to improve future clinical applications and increase the clinical curative effects of CIK cells for a broad range of malignancies in the future.
Keywords
Cytokine-induced killer cellsImmunotherapyAntitumor effectCancer therapyClinical trials
Background
Cytokine-induced killer (CIK) cells are a heterogeneous cell population that was first discovered in the 1990s and can be generated from lymphocytes co-cultured with an anti-CD3 antibody and many other cytokines in vitro [1]. Numerous studies have demonstrated that CIK cells exhibit active proliferation and potent antitumor cytotoxicity against multifarious tumor cells in vitro and in vivo [1,2]. Increasing data show that the antitumor effects of CIK cells rely on a perforin-based mechanism and Fas-Fas ligand interactions [3,4]. CIK cells are also not inhibited by immunosuppressive drugs [5], which makes CIK cells an ideal candidate cell type for cancer therapy.
Theoretically, CIK cell-based adoptive cellular immunotherapy (ACI) could be a curative strategy for cancer. Abundant clinical trials on this therapeutic regimen have been published in the past two decades, confirming its safety and feasibility in cancer patients [6-8]. Several other clinical trials focusing on graft-versus-host disease (GVHD) and viral infections related to this therapy have also been conducted in recent years [9,10].
Given the ongoing investigations of CIK cell-based ACI, this regimen has potentially widespread application prospects in the clinic for most types of cancer. In addition, several strategies to improve the clinical effects of CIK cells have been conducted (Figure
1
). For example, CIK cells combined with traditional cancer treatments, including surgery, chemotherapy, and radiotherapy, may achieve the best objective responses in patients [
11
]. Furthermore, preconditioning chemotherapy, activated cytokines, and specific antibodies could enhance the antitumor ability of CIK cells [
12
-
15
]. Recently, attempts at repeated CIK cell infusions have resulted in fewer adverse events and similar clinical curative effects for some malignancies in the clinic compared with genetically modified ACI [
16
,
17
]. However, several problems, such as the universal and massive preparation of CIK cells, must be recognized because their resolution could improve the clinical applications of CIK cells and better evaluate overall clinical responses. In addition, the clinical therapeutic procedures of using CIK cells, either combined with chemotherapy or alone as the primary strategy, will be briefly outlined. Taken together, the status quo of CIK cell-based ACI suggests that the use of CIK cells as an effective clinical cancer treatment still has room for improvement. Further large-scale, controlled, grouped, and multi-center CIK cell-based clinical trials are urgently needed.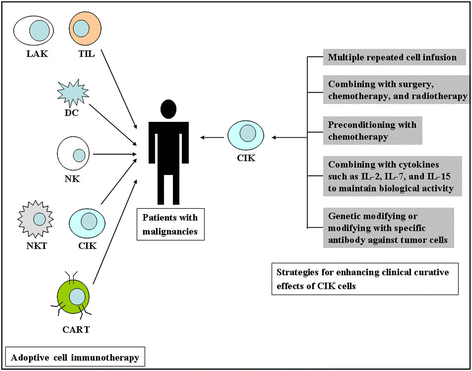 In this review, we critically summarize current researches on the biological characteristics and recent clinical trials of CIK cells and briefly compare the clinical applications of CIK cells with those of other immunotherapeutic cells. We also present concerns on CIK cell-based ACI drawn from these clinical trials.
Review
Biological characteristics of CIK cells
Clinical applications of CIK cells in disease therapy
The therapeutic potential of CIK cells as a potential adjuvant therapy for cancer has already been well recognized. A number of studies have indicated that therapeutic regimens with CIK cells could be safe and feasible for cancer patients [6,7,31]. The antitumor effects of CIK cells have been observed on both hematologic malignancies and many solid tumors [6,7,16,17]. In addition, the anti-virus and anti-GVHD potentials of CIK cells could be extensively used for clinical applications [9,10].
At present, the clinical effect of CIK cells has been supported by an increasing number of clinical trials on various types of tumors. A total number of 40 registered clinical trials involving different hematologic malignancies and solid tumors can be found on the website ClinicalTrials.gov (
http://www.clinicaltrials.gov
) (Table
2
). More importantly, CIK cells can be successfully generated from patients with various malignancies, regardless of whether they have received chemotherapy or other treatments. Below, we rigorously summarize recent clinical trials with CIK cells for various disorders.
Table 2
Current status of clinical trials of CIK cells
Target disease

Registered trial

Phase

Combined treatment

Enrolled patients (cases)

Lung cancer

NCT01498055

II/III

None

120

NCT01631357

II/III

Chemotherapy

200

Small cell lung cancer

NCT01592422

II

Best supportive care

60

NCT01481259

II/III

Chemotherapy

120

Non-small cell lung cancer

NCT01902875

Undefined

Chemotherapy

100

NCT01871480

II

Gefitinib

50

Hepatocellular carcinoma

NCT01821482

II

DC

100

NCT01758679

IV

Chemotherapy

120

NCT01749865

III

None

200

NCT00769106

III

None

200

Renal cell carcinoma

NCT01924156

I/II

Adenovirus-transfected autologous DC

30

NCT00862303

I/II

DC + cytokines

100

NCT01240005

I/II

None

30

Nasopharyngeal carcinoma

NCT01655628

II

Chemotherapy

40

NCT01821495

II

DC

100

Esophageal carcinoma

NCT01691625

Undefined

Chemoradiotherapy + DC

50

NCT01691664

Undefined

Radiotherapy + DC

40

Colorectal cancer

NCT01839539

II

DC

60

NCT02202928

II

Chemoradiotherapy + DC

60

NCT01929499

II

None

210

Gastric cancer

NCT02215837

II

DC

40

NCT01783951

I/II

Chemotherapy + DC

70

Pancreatic cancer

NCT01781520

I/II

Chemotherapy + DC

30

Cholangiocarcinoma

NCT01868490

I/II

None

13

High-risk soft tissue sarcoma

NCT01898663

I/II

Adenovirus-transfected autologous DC

30

Malignant glioma

NCT01235845

I/II

DC

30

Triple negative breast neoplasms

NCT01395056

Undefined

Chemotherapy + DC

50

Solid tumor

NCT01914263

I

None

40

Solid tumor and B-cell lymphoma

NCT01799083

I/II

Chemotherapy

100

Hematologic malignancies

NCT00460694

I/II

None

20

NCT00477035

I/II

Chemotherapy

22

NCT01186809

II

None

39

NCT00186342

Undefined

Ablative allo-HCT

120

Multiple myeloma

NCT00185757

I

None

20

Acute leukemia

NCT01956630

I/II

Genetically modified DC

25

Chronic myeloid leukemia

NCT00815321

II

None

11

Acute myeloid leukemia and myelodysplastic syndrome

NCT00394381

I/II

None

17

Myelodysplastic syndrome

NCT01392989

II

Chemotherapy

21

Lymphoma

NCT01828008

Undefined

None

20

Malignant tumor

NCT01884168

Undefined

DC

30
Comparison of clinical applications of CIK cells and other adoptive immunotherapeutic cells
Over the last few decades, the idea of ACI for cancer has been slowly becoming a reality. Adoptive immunotherapeutic cells have mainly included tumor-infiltrating lymphocytes (TIL), lymphokine-activated killer (LAK) cells, CIK cells, and chimeric antigen receptor-modified T (CART) cells. Studies demonstrated that ACI with TIL cells for melanoma patients achieved more exciting clinical benefits based on the in vitro selection of tumor-specific T cell lines and MHC-restricted antitumor function [45,46]. Nevertheless, the extremely low number of TIL cells or tumor cells that lost the expression of a specific antigen or MHC molecule render TIL cell-based ACI procedures not suitable for cancer patients [26]. LAK cells were used for the first prototype of ACI; however, LAK cells expanded insufficiently ex vivo. The low cytolytic effects of LAK cells in vivo hampered their clinical applications as a cancer therapy and have led to few successful clinical trials [47-49]. Based on LAK cells, CIK cells were generated and shown to have a substantial increase in cytotoxic effect and proliferative response, which has recently been widely applied to treat tumors in the clinic [1]. Compared with traditional immunotherapeutic cells, CART cells can specifically target tumor cells and persistently proliferate, survive, and display antitumor abilities [50,51]. The one-time infusion of these cells may decrease the infusion frequencies and cell numbers, further making CART cells an ideal and novel candidate cell type for cancer therapy. To summarize the above findings, CIK cell-based ACI is a cancer treatment that can be used in some cancers with unclear tumor target genes, and repeated infusions of CIK cells or CIK cell infusion in combination with other therapeutic regimens may achieve unexpected clinical effects. Moreover, CART cell-based ACI is more suitable for cancers with clear tumor target genes; this treatment could possibly achieve a cure.
Importantly, successful ACI is based on a detailed estimation of a particular disease, including tumor evaluation, tumor incidence, tumor growth characteristics, and a portfolio of alternative treatment strategies [52]. In accordance with the biological characteristics of these immunotherapeutic cells, CIK cells are more suitable for tumors with no specific tumor antigen, small lesions, slow proliferation, early disease stages, and alternative treatments. In recent years, a number of clinical studies have indicated that repeated CIK cell infusions could be well tolerated and produce good clinical outcomes for patients with hematologic malignancies such as AML and diffuse large B-cell lymphoma [16,17]. This treatment is able to overcome the defect that a single infusion cannot offer a sufficient or effective number of cells to eradicate tumor cells. This is because CIK cells belong to a subpopulation of terminally differentiated effector T cells that have restricted survival in vivo [53]. In addition, using CIK cell-based ACI to consolidate therapy is very advantageous for patients to obtain overall disease control as a clinical outcome with no or minimal adverse events.
Potential concerns of CIK cells in the clinic
Uniform criterion and large scale of CIK cell preparations
At present, CIK cells can be easily generated from various sources, mainly including autologous peripheral blood and bone marrow [54]. The infusion of these cells is well tolerated and does not cause severe adverse events, such as fever, myalgia, flu-like symptoms, and fatigue. Further, this strategy can be easily applied in advanced and/or metastatic malignant diseases [55,56]. Many clinical trials with CIK cell-based ACI have demonstrated potentially widespread future applications. Nevertheless, the prognosis and clinical curative effects are difficult to assess because CIK cells were prepared from autologous sources among different cancer patients. In addition, the adoptive infusion of allogeneic CIK cells could cause GVHD despite their weak alloreactivity and low GVHD potential in vivo. Therefore, searching for universal sources for CIK cell preparation may be a better approach to resolving these problems.
Compared with unrelated donor peripheral blood and bone marrow, umbilical cord blood (UCB) has several advantages, including easy acquisition, rapid availability, and low to no risk of adverse events such as GVHD [57]. More recently, some studies have indicated that CIK cells prepared from UCB are suitable for immunotherapy against both malignant and nonmalignant disorders [11,58]. UCB-derived CIK (UCB-CIK) cells have similar biological characteristics to traditional CIK cells obtained from peripheral blood [11]. Moreover, some clinical studies have demonstrated that treating malignancies with UCB-CIK cells shows promising efficacy with negligible adverse events, such as transient fever, most of which disappeared without pharmacologic intervention [11,58]. Because of this finding, this treatment strategy with UCB-CIK cells may represent a safe and feasible approach to treat patients with various malignancies. Furthermore, some studies have indicated that universal T-cell products could be generated from allogeneic donors based on the knockdown of the human leukocyte antigen genes to avoid NK cell-mediated recognition and lysis [59,60]. In addition, hematopoietic stem cells and other precursor cells have been confirmed as potentially being among the starting cell types of T-cell products [61-63]. Accordingly, treatment with CIK cells generated from these sources may also be ideal and safe for cancer patients because of the lower alloreactivity of these cells. In conclusion, the infusion of allogeneic CIK cells generated from the sources mentioned above might not trigger alloreactivity in vivo, although these cells were prepared from an unrelated donor. The prognosis and clinical curative effects could be easily evaluated under that CIK cells were generated from universal sources.
However, there are many studies reporting that CIK cells can be generated under different culturing procedures, such as activation and proliferation with IFN-γ, anti-CD3 antibody, and IL-2, as well as additional activated cytokines [1,50]. However, the similar antitumor ability, immune phenotypes, cytokine secretions, and antitumor patterns of these CIK cells may be different. Therefore, the preparation of universal CIK cell products under uniform culturing criteria would likely enhance the uniformity of the biological characteristics of the cells to allow for better evaluation of the clinical curative effects. Using streamlined and centralized manufacturing of CIK cells, including large-scale preparations and cryopreservation, these cells could probably be commercialized anywhere, thereby increasing convenience and flexibility for cancer patients.
Cancer therapy with CIK cells combined with chemotherapy or alone as a primary strategy
For advanced malignant diseases, the efficacy of chemotherapy is often low because of the resistance of tumor cells against antitumor drugs. Therefore, new antitumor approaches to overcome and/or ameliorate this resistance to chemotherapeutic drugs in cancer patients are urgently needed. Recently, studies have indicated that immunotherapy with CIK cells may promisingly overcome chemotherapy resistance by stimulating the immune system and enhancing its antitumor abilities [64,65]. Nevertheless, CIK cell-based ACI is often regarded simply as a complementary treatment for cancer therapy by certain clinical researchers and patients and may only be used to treat cancer patients if their state is otherwise incurable. Excitingly, abundant clinical researches have indicated that CIK cell-based ACI has potential beneficial clinical effects for patients with refractory and recurrent malignancies. Because of those findings, combining the therapeutic regimens of CIK cells with chemotherapy or using them alone as a primary strategy may result in better clinical benefits for cancer patients. In the future, several tasks should be urgently addressed, including the following aims: (1) to establish the benefits of using CIK cells as a primary strategy, combined with chemotherapeutic drugs or alone; (2) to observe the clinical curative effects and adverse events in the processing of these regimens; and (3) to analyze and compare these effects with the clinical benefits of traditional chemotherapy.
Conclusions
Considering the preclinical and clinical studies together, CIK cell-based ACI has demonstrated considerable benefits in various malignancies. The significant outputs do appear promising for clinical curative effects. However, many of the problems mentioned above must be resolved to acquire a better clinical curative effect of cancer treatment using CIK cells. Therefore, it is of particular importance to implement large-scale, controlled, grouped, and multi-center clinical trials to enhance the therapeutic effects of CIK cell-based ACI.
These interventions might make CIK cell-based ACI an effective and routine therapy for cancer. In conclusion, CIK cell-based ACI has significant potential to improve clinical tumor therapy and to ameliorate the quality of life in patients with various malignancies.
Declarations
Acknowledgements
We thank Yao Wang from Immunology Department of Chinese PLA General Hospital for her critical reading and valuable comments on the manuscript. This study was supported by the grants from the National Natural Science Foundation of China (31270820, 81230061 and 81402566) and was partially supported by a grant from the 2013BAI01B00.
Authors' Affiliations
(1)
Department of Immunology, Institute of Basic Medicine, Chinese PLA General Hospital, Beijing, P. R. China
Copyright
© Guo and Han; licensee BioMed Central. 2015