The Philadelphia chromosome in leukemogenesis
Chinese Journal of Cancer
2016
35:48
Received: 25 October 2015
Accepted: 3 May 2016
Published: 27 May 2016
Abstract
The truncated chromosome 22 that results from the reciprocal translocation t(9;22)(q34;q11) is known as the Philadelphia chromosome (Ph) and is a hallmark of chronic myeloid leukemia (CML). In leukemia cells, Ph not only impairs the physiological signaling pathways but also disrupts genomic stability. This aberrant fusion gene encodes the breakpoint cluster region-proto-oncogene tyrosine-protein kinase (BCR-ABL1) oncogenic protein with persistently enhanced tyrosine kinase activity. The kinase activity is responsible for maintaining proliferation, inhibiting differentiation, and conferring resistance to cell death. During the progression of CML from the chronic phase to the accelerated phase and then to the blast phase, the expression patterns of different BCR-ABL1 transcripts vary. Each BCR-ABL1 transcript is present in a distinct leukemia phenotype, which predicts both response to therapy and clinical outcome. Besides CML, the Ph is found in acute lymphoblastic leukemia, acute myeloid leukemia, and mixed-phenotype acute leukemia. Here, we provide an overview of the clinical presentation and cellular biology of different phenotypes of Ph-positive leukemia and highlight key findings regarding leukemogenesis.
Keywords
Chronic myeloid leukemiaBCR-ABL1Philadelphia chromosomeTranslocationsSignaling pathway
Background
Leukemia has among the highest mortalities of any cancer [1]. Chronic myeloid leukemia (CML) accounts for 15%–20% of all adult leukemias [2]. The Philadelphia chromosome (Ph) is the truncated chromosome 22 generated by the reciprocal translocation t(9;22)(q34;q11) and was first identified in 1960 in a patient with CML [3]. Translocation of the proto-oncogene tyrosine-protein kinase (ABL1) gene located on chromosome 9 to the breakpoint cluster region (BCR) gene located on chromosome 22 results in a BCR-ABL1 fusion gene on the Ph [4, 5]. Three BCR-ABL1 fusion gene hybrids encode BCR-ABL1 protein isoforms p210, p190, and p230, which have persistently enhanced tyrosine kinase (TK) activity. These aberrantly activated kinases disturb downstream signaling pathways, causing enhanced proliferation, differentiation arrest, and resistance to cell death [6, 7]. Tyrosine kinase inhibitors (TKIs) targeting the BCR-ABL1 protein are the most successful targeted therapy for Ph-positive leukemia. However, therapeutic resistance and disease progression are the current barriers to improve the prognosis of patients with Ph-positive leukemia [8–10]. Leukemia stem cells and BCR-ABL kinase domain mutations may be the keys to solve these problems [11]. The Ph is not limited to CML; it is also detected in cases of acute myeloid leukemia (AML) [12, 13], acute lymphoblastic leukemia (ALL; almost all of which are B-cell ALL, rarely T-cell ALL) [14], and mixed-phenotype acute leukemia (MPAL) [15–17]. The presence of the Ph results in patients with different leukemia phenotypes having substantially different prognoses. In addition, other concurrent genomic abnormalities are more common in leukemia cells with Ph than in those without. These genomic variations, in combination with BCR-ABL1 transcripts, play an important role during leukemogenesis [18–20].
However, the extent of the occurrence of the Ph and the types of BCR-ABL1 transcripts found in different leukemia phenotypes, the exact role of the translocation in leukemogenesis, and the culprit of therapeutic resistance are still not fully elucidated. Here, we review the current understanding of this topic.
The Ph, BCR-ABL1 fusion gene, and BCR-ABL hybrid protein
Molecular investigation into the Ph observed in CML revealed a consistent genomic recombination between two genes—
BCR
on the long arm of chromosome 22 and
ABL1
on the long arm of chromosome 9—resulting in their juxtaposition, which generates the
BCR
-
ABL1
fusion gene [
21
]. The location of the
BCR
and
ABL1
genomic breakpoints is highly variable [
22
], but the recombination usually involves fusion of intron 1, intron 13/14, or exon 19 of
BCR
with a 140-kb region of
ABL1
between exons 1b and 2 (Fig.
1
a). Referred to as p210
BCR-ABL1
, the fusion of
BCR
exon 13 and
ABL1
exon 2 (e13a2) or e14a2 constitutes the major
BCR
-
ABL1
transcript (M-BCR, originally referred to as b2a2 and b3a2). Both transcripts result in a hybrid 210-kDa protein. p210
BCR-ABL1
is most commonly detected in CML and occasionally in ALL or AML. p190
BCR-ABL1
(e1a2) constitutes the minor
BCR
-
ABL1
transcript (m-BCR), which encodes a hybrid 190-kDa protein. p190
BCR-ABL
is commonly detected in B-cell ALL (B-ALL) and occasionally in AML but is rarely observed in CML [
7
]. p230
BCR-ABL1
(e19a2), also known as the μ
BCR
-
ABL1
transcript (μ-BCR), encodes a hybrid 230-kDa protein. p230
BCR-ABL1
is generated by the fusion of almost the entire
BCR
gene with the
ABL1
gene and is considered a molecular diagnostic marker for neutrophilic-chronic myeloid leukemia (CML-N) [
23
].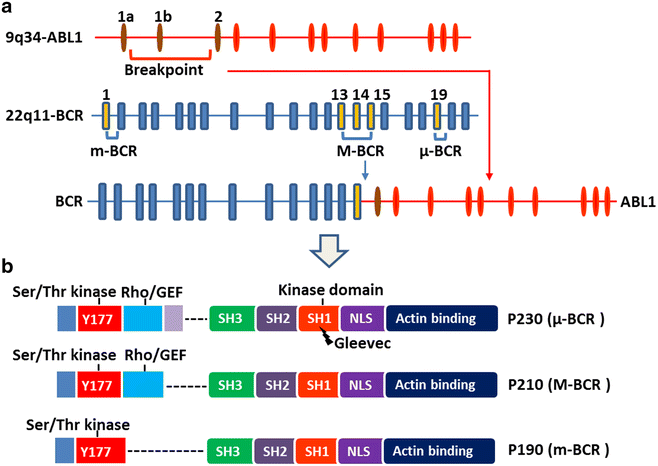 The BCR-ABL1 protein in CML contains several domains from both BCR and ABL1. The domains from BCR include an N-terminal coiled-coil domain (CC; amino acids 1–63), a Ser/Thr kinase domain containing a docking site (phosphorylated tyrosine 177, Y177) for the adaptor protein growth factor receptor-bound protein 2 (GRB2) [24, 25], and a ras homolog gene family/Guanine nucleotide exchange factors (Rho/GEF) kinase domain (amino acids 298–413) [26], whereas the domains from ABL1 include src homology (SH) domains (SH1/SH2), a proline-rich domain, and DNA- and actin-binding domains. Although different transcripts encode different proteins, a common feature of all the hybrid proteins (p210/190/230) is the constitutively active protein kinase activity compared to wild-type ABL1 (Fig. 1b).
The N-terminal CC domain and Y177 of BCR are essential for the activation of ABL1 kinase [27, 28]. Targeting the CC domain to disrupt the tetramerization of BCR-ABL1 reduces its kinase activity and increases sensitivity to the TKI imatinib mesylate (imatinib, also known by the trade names Gleevec or Glivec) [29, 30], thus indicating that inhibition of tetramerization can contribute to overcoming imatinib resistance. In CML, Y177 plays a critical role in leukemic cell progenitor expansion, proliferation, and survival. Mutation of the GRB2-binding site at Y177 in p210BCR-ABL1 fails to induce a CML-like disease [24] and enhances sensitivity to imatinib by inhibiting RAS and protein kinase B (PKB, also named AKT) activation in CML [31]. These results show that Y177 is essential for transformation of CML by BCR-ABL1, and that it has potential as a target for overcoming imatinib resistance. The Rho/GEF protein plays a major role in activating differentiation in BCR-ABL1-induced leukemogenesis [32]. Inhibition of Rho kinase suppresses DNA synthesis in BCR-ABL1-transfected cells and also inhibits the proliferation and survival of CML progenitor cells [33, 34].
ABL1 protein, one of the non-receptor TKs, is present throughout hematopoietic development, with declining levels during myeloid maturation. The autophosphorylation site in the activation loop of its SH1 domain constitutes a switch between the inactive and active kinase conformation as it conjugates adenosine triphosphate (ATP) [35]. Imatinib and other kinase inhibitors compete with ATP to bind the autophosphorylation site, blocking the downstream signaling pathway [36]. In the "closed" conformation, the SH2 domain inhibits ABL1 activity, whereas in the "open" conformation, it promotes ABL1 activation through binding to the C-terminal of the SH1 domain [37]. Importantly, docking of the SH2 domain to the C-lobe of the kinase is controlled by the myristate moiety at the N-terminal of the SH3 domain. N-terminal myristoyl modification of the SH3 domain of ABL1 binds to the SH1 domain (the kinase domain) and induces conformational changes that allow the SH2 and SH3 domains to dock onto it [38, 39]. Mutant SH3 domain of ABL1 (exon 1b) with a blocked myristate-binding site shows strongly deregulated TK activity [38]. Also, blocking the myristate-binding site completely abolished leukemogenesis in mice and increased the sensitivity of imatinib-resistant BCR-ABL1-bearing mutants to TKI inhibition [40, 41]. These findings suggest that the myristate-binding site of the SH3 domain of ABL1 is a potential novel allosteric target for pharmacologic intervention.
Ph in different phenotypes of leukemia
What role does Ph play in leukemogenesis?
The BCR-ABL1 fusion protein was first indicated as the crucial driver of CML in mouse studies, which showed that expression of p210BCR-ABL1 in the bone marrow caused a CML-like disease. The progression of p210BCR-ABL1-associated disease in transgenic mice is consistent with the apparent indolence of human CML-CP [73, 74]. Expression of p190BCR-ABL1 at a level similar to that in the p210BCR-ABL1-transgenic model results in a clinically distinct condition. Voncken et al. [75] demonstrated the development of de novo B-cell leukemia in mice exclusively transgenic for p190BCR-ABL1, with a relatively short period of latency. Furthermore, Castellanos et al. [76] created an in-frame fusion of p190BCR-ABL1 that mimics the human chromosomal translocation by homologous recombination in embryonic stem cells. The chimeric mice generated with the mutant embryonic stem cells systematically developed B-ALL, which was detected with elevated TK activity [77]. The TKI imatinib, the first agent targeting the TK activity of BCR-ABL1 protein, has become the first-line therapy for all patients with Ph-positive CML; it is also an indispensable therapy for Ph-positive ALL. Imatinib has changed the prognosis of CML radically over the last 15 years and improved the overall survival of ALL patients.
In addition to its TK activity, the SH2 domain of BCR-ABL1 is also required for induction of CML-like disease in mice, but, interestingly, SH2 is not required for lymphoid leukemogenesis [78]. BCR-ABL1 with deleted SH2 or the R1057K mutant on SH2 of p210BCR-ABL1 retains the ability to induce a fatal myeloproliferative disorder (MPD) with an extended latency [79]. Consistently, in cells transfected with SH2-mutated BCR-ABL1 or BCR-ABL1, the B-lymphoid expansion was diminished, suggesting that the BCR-ABL1-induced MPD suppresses B-lymphoid expansion [79].
Pathways associated with BCR-ABL1
The transforming activity of BCR-ABL1 is due to its constitutive TK activity, which contributes to the maintenance of cell proliferation, inhibits differentiation, and promotes resistance to cell death. BCR-ABL1 kinase hyperactivity results in the activation of signaling pathways and deregulation of cellular processes [
80
]. Most of these pathways have been demonstrated in CML and ALL mouse models. The main pathways associated with BCR-ABL1 activity are presented in Fig.
2
.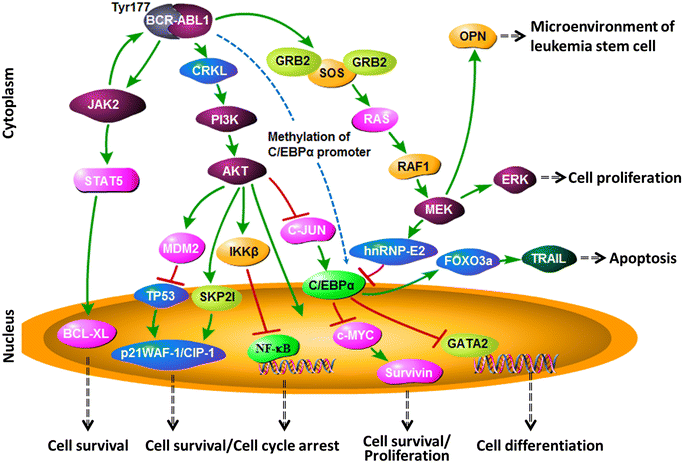 Genomic instability
Genomic instability is an essential factor of tumorigenesis for both leukemias and solid tumors. Chromosomal translocations generate the aberrant fusion TKs, such as BCR-ABL1, Ets variant gene 6-ABL1 [TEL(ETV6)/ABL1], TEL(ETV6)/JAK2, and TEL-platelet-derived growth factor beta receptor [TEL(ETV6)/PDGFβR], which induce hematologic malignancies [150]. BCR-ABL1-positive cells contain elevated numbers of DNA double-strand breaks (DSBs) and show stimulation of the single-strand annealing (SSA) repair process [151–153]. The WRN gene (mutated in Werner syndrome) encodes a helicase required for processing DSB ends during the repair. BCR-ABL1 enhances the expression and increases the nuclear localization of WRN to promote survival and genomic instability [154].
Prolonged expression of the p210BCR-ABL1 transcript was associated with development of aneuploidy and complex chromosomal translocations in the mouse model [155]. Transgenic mice expressing p190BCR-ABL1 developed karyotypic abnormalities, most commonly trisomies involving chromosomes 12, 14, or 17, alone or in combination [18].
A recent study using a whole transcriptome array showed that genes such as dipeptidyl peptidase-4 (DPP4), interleukin-2 receptor alpha (IL2RA), protein tyrosine phosphatase, receptor type D (PTPRD), calcium channel, voltage-dependent, L type, alpha 1D subunit (CACNA1D), interleukin 1 receptor accessory protein (IL1RAP), solute carrier family 4 (SLC4A4), and potassium channel, subfamily K, member 5 (KCNK5) were up-regulated in BCR-ABL1-positive CML. This study found that these genes play key roles in proliferation, differentiation, and molecular pathways in HSCs [156]. Accumulation of additional cytogenetic and molecular abnormalities also contributes to blast transformation and progression [157–159]. BCR-ABL1 and genomic instability are currently considered to be a complex partnership in leukemogenesis, suggesting that BCR-ABL1 itself leads to genomic instability independent of its leukemogenic effect [20].
The Ph rarely appears with other genetic abnormalities in CML-CP. However, in Ph-positive B-ALL, AML, MPAL, and CML-AP and CML-BP, deletions involving immunoglobulin heavy chain (
IGH
), T-cell receptor (
TCR
), encoding the transcription factor IKAROS family zinc finger protein 1 (
IKZF1
), and cyclin-dependent kinase inhibitor 2 (
CDKN2A/B
) are common [
66
]. A recent study showed that the
BCR
-
ABL1
fusion gene could be a prenatal and possibly initiating genetic event in Ph-positive childhood ALL and that variation in other genes is a secondary and probably postnatal event in these cases [
160
]. Common gene abnormalities found in Ph-positive leukemia are discussed in Table
1
.
Table 1
Recurrent genomic abnormalities in Philadelphia chromosome (Ph)-positive leukemia
Genomic abnormality

Location

Status

Ph-positive leukemia

Frequency

Reference(s)

IKZF1

7q12.2

Deletion

ALL

50%–83%

Deletion

Lymphoid CML-BC

73%–75%

PAX5

9p13

Deletion

ALL

33%–51%

Deletion

Lymphoid CML-BC

58.3%

[180]

EBF1

5q34

Deletion

ALL

14%

[198]

CDKN2A/B

9p13-p23.1

Deletion

AML

50%

[66]

Deletion

MPAL

33.3%

[66]

Deletion

ALL

53.5%

Deletion

Lymphoid CML-BC

58.3%–69%

[180]

IG

14q32.33

IGHV/IGHG2 M deletion

Lymphoid CML-BC

66%–100%

22q11.2

IGLL1 deletion

AML

66.7%

[66]

TCR

14q11.2/7p14.1

TCRA/B/D deletion

AML/MPAL

66.7%

[66]

14q11.2

TCRA deletion

Lymphoid CML-BC

74%

BTG1

12q21.33

Deletion

BCP-ALL

11%–31.3%

[176]

Deletion

MPAL

33.3%

[176]

Deletion

CML-BC (B-lineage)

33.3%

[176]
Therapeutic resistance and disease progression in Ph-positive leukemia patients
Compared with CML-CP patients, imatinib responses are much less durable in patients with CML-AP/BC or ALL [8–10]. Compelling research suggests that a population of cancer stem cells (CSCs) is responsible for therapeutic resistance and disease progression. BCR-ABL1-positive stem cells persist in CML patients despite prolonged treatment with imatinib [181, 182]. Primitive, quiescent, Ph-positive stem cells (CD34+CD38–) from patients with CML are insensitive to imatinib in vitro [183]. Consistently, the BCR-ABL1 expression in persistent leukemic stem cells could explain innate resistance to imatinib and to other TKIs [184].
In CML patients with TKI resistance, relapse or evolving to blast crisis, BCR-ABL1 kinase mutations (M237I, L248V, Q252E, Y253H, D276G, G321E, V304A, M351T, T315 I, E352G, Y353G, E373G, and T389A) can be detected in stem cells [185, 186]. Mutations were found in 27% of CML-CP patients, 52% of CML-AP patients, 75% of myeloid blast crisis patients, and 83% of lymphoid blast crisis/Ph-positive ALL patients [187]. Thirty percent of patients with primary resistance and 57% of patients with acquired resistance were associated with these mutations [187]. Studies have confirmed that the mutations were the potential source of resistance and relapse [185]. The following mutations are involved in theraputic resistence and disease progression [188]: (1) contact residues (such as T315) by impeding inhibitor access or eliminating critical hydrogen bonds; (2) the ATP-binding loop (such as L248V) by preventing Abl from adopting the specific conformation required for high-affinity imatinib binding; and (3) regulatory motifs (such as the activation loop) by stabilizing an active conformation that is inaccessible to imatinib.
Recent studies showed that inhibition of heat shock protein 90 (Hsp90) decreased the number of leukemia stem cells, caused BCR-ABL protein degradation by the ubiquitin-proteasome pathway, and prolonged survival of mice with CML induced by BCR-ABL-T315I [189, 190]. Many novel Hsp90 inhibitors have entered into clinical trials, the results of which are encouraging [190]. This anti-Hsp90 strategy in treating CML patients, especially with TKI resistance, has a good application prospect. Another study showed that some alkyne-containing pyrazolopyrimidines can inhibit not only Abl(T315I) in vitro but also Bcr-Abl(T315I) in cells, suggesting that these pyrazolopyrimidines can serve as lead compounds for targeted therapy to overcome drug resistance of CML [191]. Also, one third-generation TKI, ponatinib, has been proven against the drug resistance including the T315I mutation. X-ray crystallographic analysis revealed that ponatinib inactivated T315I Bcr-Abl mutated kinase by conformational alteration [192].
In brief, a quiescent population of leukemia stem cells with or without BCR-ABL1 kinase domain mutations is responsible for drug resistance [11].
Conclusion leukemogenesis is an outcome of the Ph combined with other genetic variations
Expression of BCR-ABL1 (p210 transcript) has been detected at very low levels in the peripheral blood cells of some healthy individuals but not in umbilical cord blood cells [193]. In addition, BCR-ABL1-specific T cells are detected in healthy donors and in CML patients after allogeneic stem cell transplantation [194]. These results indicate that normal cells evolve progressively to a neoplastic state, and they may acquire a succession of genetic abnormalities and gain the ability to maintain proliferation, inhibit differentiation, and resist cell death [195].
The Ph bearing the BCR-ABL1 fusion gene is the key initiator of different phenotypes of leukemia with diverse prognoses. The translocation leads to persistent TK activation and genomic instability during leukemogenesis. Disorders in multiple signaling pathways and genetic abnormalities combined with the Ph are essential for the evolution of different types of leukemia; however, why cells possessing the Ph should evolve specifically into CML, AML, ALL, or MPAL is currently unclear and under investigation. Evidence shows that there are characteristics exclusive to specific leukemias, including deletion of BTG1 in B-cell leukemia, loss of IKZF1 with monosomy 7 in AML, and deletions involving IGH, TCR, IKZF1, and CDKN2A/B in CML-AP/CP. Greater understanding of leukemogenesis and the effect of treatment on clonal evolution will provide novel insights into the design of future therapeutic strategies for Ph-positive leukemia [196, 197].
Abbreviations
Ph:

Philadelphia chromosome
CML:

chronic myeloid leukemia
ALL:

acute lymphoblastic leukemia
AML:

acute myeloid leukemia
MPAL:

mixed-phenotype acute leukemia
TK:

tyrosine kinase
TKIs:

tyrosine kinase inhibitors
CML-N:

neutrophilic-chronic myeloid leukemia
Y177:

phosphorylated tyrosine 177
CML-CP:

chronic phase of CML
CML-AP:

accelerated phase of CML
CML-BC:

blast crisis of CML
myeloid CML-BC:

myeloid-BC of CML
HSC:

hematopoietic stem cell
MPD:

myeloproliferative disorder
OPN:

osteopontin
TRAIL:

tumor necrosis factor-related apoptosis-inducing ligand-TNFSF10
C/EBPs:

CCAAT/enhancer-binding proteins
SSA:

single-strand annealing
IKZF1:

encoding the transcription factor IKAROS
BTG1:

B cell translocation gene 1
IGH:

immunoglobulin heavy chain
EBF1:

early B-cell factor 1
PAX5:

paired box 5
CDKN2A/B:

cyclin-dependent kinase inhibitor 2
TCR:

T-cell receptor
IGHV:

immunoglobulin heavy chain variable region
IGHG2M:

immunoglobulin heavy constant gamma 2
TCRA:

T-cell receptor alpha locus
IGLL1:

immunoglobulin lambda-like polypeptide 1
Declarations
Authors' contributions
QL, JSY, and ZJK conceived of the study. ZJK, LZX, ZJL, and DH participated in its design and coordination. ZJK drafted the manuscript. YY, YFL, BL, and JXF reviewed and edited the manuscript. ZJK and YJP performed the diagrammatic drawing. All authors read and approved the final manuscript.
Acknowledgements
We thank Professor Han Liu for revising the manuscript. This study was supported by the China Central Budget Recruitment Program of High-Level Overseas Talent (GDW 201221022066 to Q. Liu), the National Basic Research Program of China (973 Program: No. 2012CB967000 to Q. Liu), the National Natural Science Foundation of China (NNSF No. 81130040 to Q. Liu and No. 81201686 to J. Xu), the Program for Changjiang Scholars and Innovative Research Team in Universities (ITR 13049 to Q. Liu), and the Liaoning (NSF 2014029102 to Q. Liu).
Competing interests
The authors declare that they have no competing interests.
Open AccessThis article is distributed under the terms of the Creative Commons Attribution 4.0 International License (http://creativecommons.org/licenses/by/4.0/), which permits unrestricted use, distribution, and reproduction in any medium, provided you give appropriate credit to the original author(s) and the source, provide a link to the Creative Commons license, and indicate if changes were made. The Creative Commons Public Domain Dedication waiver (http://creativecommons.org/publicdomain/zero/1.0/) applies to the data made available in this article, unless otherwise stated.
Authors' Affiliations
(1)
Department of Hematology, The Second Affiliated Hospital, Institute of Cancer Stem Cell, Dalian Medical University, Dalian, P. R. China
(2)
State Key Laboratory of Oncology in South China, Sun Yat-sen University Cancer Center, Guangzhou, P. R. China
(3)
Department of Oncology, The Second Affiliated Hospital, Dalian Medical University, Dalian, P. R. China
(4)
Department of Hematology, The Third Affiliated Hospital, Sun Yat-sen University, Guangzhou, P. R. China