Key nodes of a microRNA network associated with the integrated mesenchymal subtype of high-grade serous ovarian cancer
Chinese Journal of Cancer
2015
34:340010028
Received: 1 December 2014
Accepted: 3 December 2014
Published: 16 June 2015
Cancer is a complex and dynamic disease that defies the normal differentiation process in which pluripotent embryonic stem cells are differentiated into almost all cell types; this process is driven mostly by epigenetic nuclear programming events such as DNA methylation and selective expression of a series of non-coding RNAs[1]. However, the extensive nuclear reprogramming that accompanies genetic events such as mutation and gene copy number alterations confers remarkable plasticity on cancer cells[2], particularly regarding the phenotypic switches often found in cancer[3]. Epithelial cells can adopt mesenchymal features, mesenchymal cells can adopt epithelial features, and mesenchymal cells can become endothelial cells[3,4]. The most well-studied cell fate switch is epithelial-to-mesenchymal transition (EMT), a process whereby epithelial cells lose both polarity and cell-to-cell contacts, thus acquiring increased motility and invasiveness. This pathophysiological transition is necessary for the conversion from a benign tumor to an aggressive, highly invasive carcinoma; it is the mechanism that allows tumor cells to escape from the primary tumor, evade into neighboring normal parenchyma, and enter lymphatic and blood circulation to initiate lymphohematogenous metastasis. The early escape of certain epithelial cells in tumors was noticed and documented by pathologists more than 100 years ago in drawings[5]. EMT properties are acquired as a result of complex changes in cancer cells and their microenvironment that lead to the dissolution of intracellular junctions and detachment from the basolateral membrane; changes in the interactions between cancer cells and the extracellular matrix also contribute to EMT.
The phenotypic switch from epithelial to mesenchymal is characterized by profound morphologic changes, such as the loss of apico-basal polarity and reorganization in the distribution of organelles and cytoskeleton components that are related to a mesenchymal switch in the expression of cell lineage-specific genes and levels of proteins. The levels of epithelial proteins (e.g., E-cadherin, claudin, occluding, cytokeratins) progressively decrease while the levels of mesenchymal proteins [e.g., N-cadherin, vimentin, alpha-smooth muscle actin (a-SMA), fibronectin] increase.
In addition to these well-known marker genes, more complex gene signature sets that take into account the intrinsic heterogeneity of tumor cells have been proposed to define mesenchymal and epithelial subtypes[6–12]. Practically, these gene sets are used to estimate whether a cell population is more likely to express mesenchymal or epithelial features. Examining genes that cluster a group of tumors together is a frequently used strategy in cancer classification[6,9–11]. If these genes are enriched in a mesenchymal gene set, these tumors are often classified as mesenchymal subtypes. Using data from The Cancer Genome Atlas (TCGA), mesenchymal subtypes have been identified in multiple cancer types, including serous ovarian cancer[13].
Because of the importance of EMT and mesenchymal-to-epithelial transition (MET), a concerted effort has been made to determine the regulators of these processes[
14
–
17
]. In this article, we focus on the post-transcriptional regulatory mechanism based on microRNAs (miRNAs), which are 22-nucleotide, non-coding RNAs that suppress gene expression through mRNA destabilization or translational inhibition. miRNAs are deregulated in a wide variety of human cancers and have been shown to contribute to the control of cell growth, differentiation, and apoptosis, which are all important for the development and progression of cancer[
18
–
26
]. miRNAs regulate multiple signaling pathways involved in EMT[
27
]. Because of the intimate relationship between miRNAs and EMT signature genes, we believe that an integrated analysis of these two groups of genes (protein coding and non-coding) is critical to define the core regulatory network that may underlie specific phenotypes associated with cancer subtypes. In a recent report, we performed such an analysis and identified a core regulatory network that better describes an integrated mesenchymal subtype of serous ovarian cancer patients in the TCGA cohort. This network includes 8 key node miRNAs and 214 protein-coding genes (
Figure
1
)[
28
].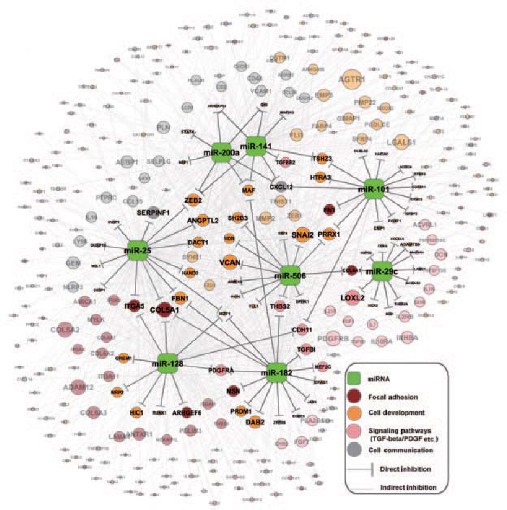 In the integrated miRNA-mRNA network, 3 of the 8 miRNAs (miR-101, miR-200c, and miR-141) are well-known regulators of EMT, and the work performed by our group and others has also shown that miR-506 is a potent regulator of EMT[28–30]. The role of other 4 miRNAs (miR-25, miR-29c, miR-182, and miR-128) in EMT is less clear, although some of these have been shown to affect cell migration, invasion, and metastasis. This article briefly summarizes these 8 miRNAs and their roles in cancer. We first review the newly defined EMT suppressor miR-506, followed by the other known EMT regulators (miR-101, miR-200c, and miR-141), and then the remaining 4 miRNAs.
(1)
Department of Pathology, Tianjin Medical University Cancer Institute and Hospital, Tianjin, 300060, P. R. China
(2)
Department of Epidemiology and Biostatistics, Tianjin Medical University Cancer Institute and Hospital, Tianjin, 300060, P. R. China
(3)
The Key Laboratory of Tianjin Cancer Prevention and Treatment, Tianjin Medical University Cancer Institute and Hospital, Tianjin, 300060, P. R. China
(4)
Department of Gynecology and Obstetrics, Tianjin Medical University General Hospital, Tianjin, P. R. China
(5)
Department of Experimental Oncology and Molecular Medicine, Fondazione IRCCS Istituto Nazionale dei Tumori, Milano, 20133, Italy
(6)
Institute for Systems Biology, Seattle, WA 98109, USA
(7)
Department of Gynecologic Oncology and Reproductive Medicine, The University of Texas MD Anderson Cancer Center, Houston, TX 77030, USA
(8)
Department of Pathology, Unit 85, The University of Texas MD Anderson Cancer Center, 1515 Holcombe Blvd., Houston, TX 77030, USA
(9)
Center for RNAi and Non-Coding RNA, The University of Texas MD Anderson Cancer Center, Houston, TX 77030, USA
(10)
Department of Pharmaceutical Sciences, Center for Pharmacogenetics, University of Pittsburgh School of Pharmacy, Pittsburgh, PA 15261, USA