International Szent-Györgyi Prize for Progress in Cancer Research: basic and translational research recognition
Mary-Claire King received the 2016 Prize for her pioneering research that demonstrated the first evidence of genetic predisposition to breast cancer
Chinese Journal of Cancer
2017
36:92
Received: 26 April 2017
Accepted: 6 November 2017
Published: 21 November 2017
The Szent-Györgyi Prize for Progress in Cancer Research, named in honor of Albert Szent-Györgyi, M.D., Ph.D., 1973 Nobel laureate and co-founder of the US National Foundation for Cancer Research (NFCR), is awarded annually to outstanding research scientists whose basic and translational research achievements have expanded our understanding of cancer and cancer causation; whose vision has moved cancer research in new directions; and whose discoveries have resulted in notable advances in cancer prevention, diagnosis, or treatment.
We have previously reported in the Chinese Journal of Cancer on the two preceding Szent-Györgyi Prize recipients, the 2014 Prize winner James P. Allison, Ph.D. [1] and the 2015 Prize winner Frederick W. Alt, Ph.D. [2], and this Prize has now been given to 12 recipients since its inauguration in 2006 for these recipients' discoveries that have changed the course of cancer research with an impact of saving people's lives. The international scope of the Prize was first exemplified when the 2012 Selection Committee awarded the Prize to co-recipients from China, Zhu Chen, M.D., Ph.D., the Chairman of the Chinese Medical Association and Former Minister of Health of China, and his mentor, Zhen-Yi Wang, M.D.
The 2016 Szent-Györgyi Prize was awarded via unanimous decision by the 2016 Selection Committee to Mary-Claire King, Ph.D., Professor of Medicine (Medical Genetics) and Genome Sciences at the University of Washington in Seattle, for her pioneering research that provided the first evidence of genetic predisposition to breast cancer (Fig.
1
) [
3
]. Her proof of existence of the breast cancer 1 (
BRCA1
) gene and the identification of its location made genetic screening for breast and ovarian cancers possible, giving individuals who have inherited mutations in
BRCA1
a chance to take preventive measures at an early stage of their lives.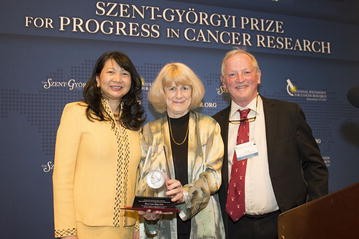 (1)
National Foundation for Cancer Research, 4600 East West Highway, Suite 525, Bethesda, MD 20814, USA