The US Chinese Anti-Cancer Association and the Asian Fund for Cancer Research Recognize Young Chinese Cancer Researchers with the 2016 USCACA–AFCR scholar awards
Chinese Journal of Cancer
2017
36:30
Received: 8 February 2017
Accepted: 8 March 2017
Published: 17 March 2017
To foster and strengthen collaborations among cancer researchers and physicians in the United States (US) and China, the US Chinese Anti-Cancer Association (USCACA), the National Foundation for Cancer Research (NFCR), and the Asian Fund for Cancer Research (AFCR) have established the USCACA–NFCR/AFCR Scholarship Program in Basic, Translational, and Clinical Studies. Between 2010 and 2015, 24 junior Chinese cancer researchers and physicians have been recognized by this award for their outstanding achievements in cancer research accomplished both during their training in the US and after their returning to China [
1
–
4
]. In 2016, three young researchers were selected on the basis of their significant contributions in translational cancer research. The USCACA and AFCR proudly presented the Award to the following three outstanding young scientists during the 5th Guangzhou International Symposium on Oncology held in Guangzhou, Guangdong, China, December 1–3, 2016 (Fig.
1
).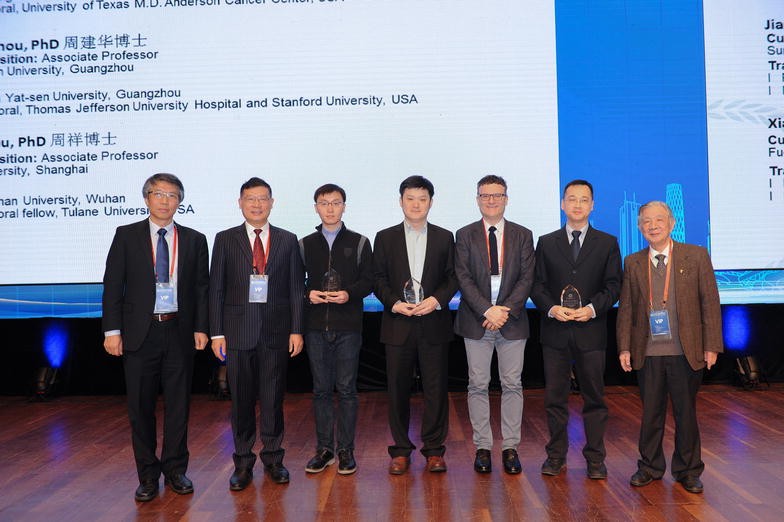 Dr. Song Gao, Department of Pancreatic Cancer, Tianjin Medical University Cancer Institute and Hospital, Tianjin, China

Dr. Jianhua Zhou, Department of Ultrasound, Sun Yat-sen University Cancer Center, Guangzhou, Guangdong, China

Dr. Xiang Zhou, Cancer Institute in Shanghai Cancer Center, Fudan University & Institute of Biomedical Sciences, Shanghai, China
The three winners of the 2016 USCACA–AFCR Scholar Awards were invited to an award ceremony at the opening ceremony of the 5th Guangzhou International Symposium on Oncology on December 2, 2016 in Guangzhou, China. All awardees have received excellent doctoral and/or postdoctoral training under their US mentors who are leading cancer researchers and USCACA members. The discoveries and findings from these talented young scientists have not only significantly enhanced our understanding of the complex mechanisms underlying the development and progression of human cancers but also provided critical insights for identifying novel targets and developing new approaches for improving treatment and clinical care of cancer patients.
(1)
US Chinese Anti-Cancer Association, Los Angeles, Martinez, CA 94553, USA
(2)
Department of Preventive Medicine, Northwestern University Feinberg School of Medicine, Chicago, IL 60611, USA
(3)
Beijing Cancer Hospital and Institute, Peking University School of Oncology, Beijing, 100142, China
(4)
Department of Cancer Biology, Wake Forest University, Winston-Salem, NC 27157, USA
(5)
Department of Medicine, Cedars-Sinai Medical Center, Los Angeles, USA
(6)
University of California, Los Angeles, School of Medicine, Los Angeles, CA, USA
(7)
Department of Neurology, Northwestern Feinberg School of Medicine, Chicago, IL 60611, USA