Metformin targets multiple signaling pathways in cancer
Chinese Journal of Cancer
2017
36:17
Received: 24 May 2016
Accepted: 21 June 2016
Published: 26 January 2017
Abstract
Metformin, an inexpensive and well-tolerated oral agent commonly used in the first-line treatment of type 2 diabetes, has become the focus of intense research as a candidate anticancer agent. Here, we discuss the potential of metformin in cancer therapeutics, particularly its functions in multiple signaling pathways, including AMP-activated protein kinase, mammalian target of rapamycin, insulin-like growth factor, c-Jun N-terminal kinase/mitogen-activated protein kinase (p38 MAPK), human epidermal growth factor receptor-2, and nuclear factor kappaB pathways. In addition, cutting-edge targeting of cancer stem cells by metformin is summarized.
Keywords
MetforminSignaling pathwayCancer stem cellCancer
Background
Metformin (1,1-dimethylbiguanide hydrochloride), a USA Food and Drug Administration (FDA)-approved biguanide derivative and the most widely prescribed antihyperglycemic drug, is used as first-line therapy for diabetes mellitus type 2. Metformin reduces blood glucose levels by inhibiting hepatic glucose production, increasing glucose uptake and utilization by the skeletal muscle, reducing insulin resistance in peripheral tissue, and suppressing gluconeogenesis in the liver [
1
–
4
]. Interestingly, metformin attracted increasing interests in recent years due to its anticancer effects [
5
–
10
]. The drug has been demonstrated to reduce the development of prostate cancer [
11
], lung cancer [
12
], breast cancer [
13
], esophageal cancer [
14
], colon cancer [
15
], and melanoma [
16
]. Several preclinical studies have reported that metformin reduced cell proliferation, induced apoptosis, and caused cell cycle arrest in vitro and also reduced occurrence and growth of experimental tumors in vivo [
17
–
19
]. Metformin can also be used as a sensitizer or be combined with conventional chemotherapeutic agents and radiotherapy to combat cancer [
20
–
24
]. Moreover, metformin plays an important role in targeting cancer stem cells (CSCs) [
25
] and reversing the epithelial-mesenchymal transition (EMT), a critical process in cancer metastasis [
26
]. The possible signaling pathways involved in the anticancer effects of metformin are outlined below and demonstrated in Fig.
1
and Table
1
.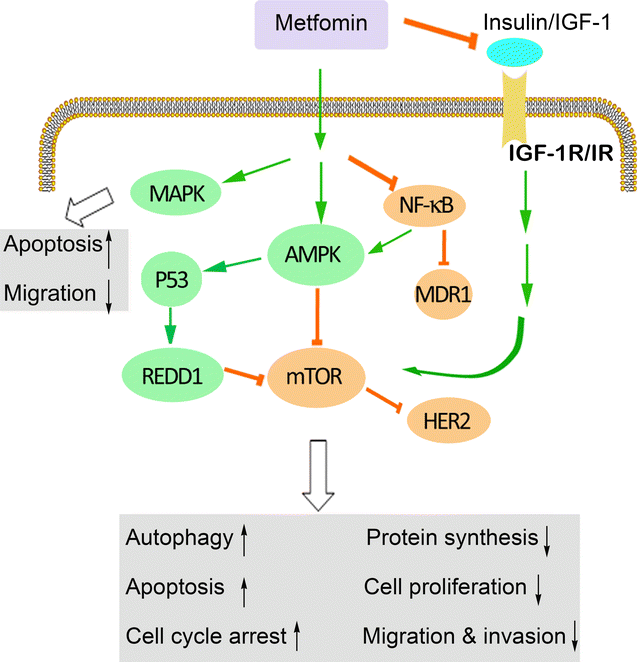 Table 1
Metformin targets multiple signaling pathways in cancer
Proposed mechanism

Functions

Tumor type/model

References

AMPK-dependent

Inhibition of cell mitosis and proliferation

Human carcinoma tissues and human cancer cell lines

[29]

Up-regulation of the p53–p21 axis and down-regulation of cyclin D1

T-cell acute lymphoblastic leukemia

DNA synthesis

Pancreatic cancer

[34]

Growth inhibition and G0/G1 cell cycle arrest

Lymphoma cells

[36]

Cell apoptosis

Acute lymphoblastic leukemia

[36]

Suppression of multidrug resistance 1 gene activation

Breast cancer

[37]

AMPK-independent

REDD1, a negative regulator of mTOR, mediates cell cycle arrest and cyclin D1 decrease

Prostate cancer cells

[39]

Induced apoptosis

Human ovarian cancer cells

[40]

Suppression of mTOR

Inhibition of global protein synthesis and cell proliferation

Breast cancer

Repression of oncogenic mRNA translation

Leukemia

Lung cancer

Inhibition of cell growth and induction of apoptosis

Breast cancer

Prevents the development of carcinogen-induced premalignant lesions

Oral squamous cell carcinoma

[63]

Induction of autophagy

Lymphoma

[36]

Inhibits growth and decreases resistance to anoikis

Thyroid cancer

Inhibits skin tumor promotion

In overweight and obese mice with papilloma and squamous cell carcinoma

[65]

Suppresses HER2 oncoprotein overexpression

Breast cancer

[101]

Suppression of IGF signaling

Prevents androgen-mediated IGF-1R up-regulation; reduces cell proliferation, invasion, and clonogenic capacity

Prostate cancer cells

[82]

Reduces the circulating levels of insulin and IGF-1; blocks cell growth and proliferation

A tobacco carcinogen-induced lung cancer model in A/J mice

[60]

AMPK-induced phosphorylation of insulin receptor substrate-1

Switches off IGF-1-induced activation of Akt/Tsc1/mTOR

Human pancreatic cancer cells, breast cancer cells

Activation of AMPK

Disruption of crosstalk between insulin/IGF-1R and GPCR signaling

Pancreatic cancer

[86]

Activation of the JNK/p38 MAPK pathway

Apoptosis-mediated effect

Lung cancer cells

[100]

The MAPK signaling pathway

Synergistic effects of metformin in combination with gefitinib

Lung cancer

Blocks tumor cells migration and invasion and inhibits MMP-9 activation

Human fibrosarcoma

[92]

Inhibits cell growth and colony formation and induces cell cycle arrest

Breast cancer

Blocks survival signals

Prostate cancer

[97]

Endometrial cancer

[98]

Inhibition of the NF-κB pathway

Halts proliferation of cancer cells and causes death; sensitizes to chemotherapeutic reagents

Inflammation-associated tumors

[107]

Repression of the NF-κB and mTOR signaling pathways

Growth inhibition

Cutaneous squamous cell carcinoma

[99]

Inhibition of CSCs

Inhibits cellular transformation and selectively kills cancer stem cells

Preclinical breast cancer models

[119]

Down-regulation of CSC markers

Inhibits cell proliferation, migration, and invasion

Pancreatic cancer

Targeting CSCs and mTOR

Inhibits esophageal cancer cell growth and sensitizes cells to 5-FU cytotoxic effects

Esophageal cancer cells

[123]

Selective suppression of NF-κB nuclear localization and STAT3 activity

Inhibits nuclear translocation of NF-κB and phosphorylation of STAT3 in CSCs

Breast cancer, prostate cancer, and melanoma cell lines

[126]
Conclusions
In conclusion, in vitro and in vivo studies strongly indicate that metformin, a widely prescribed oral medication used as front-line therapy for type 2 diabetes, could be a valuable adjuvant therapy for cancer. Metformin may become a useful adjuvant drug in association with established anticancer therapies, and there are multiple clinical trials examining the effects of metformin on cancer outcomes. In general, most data support the hypothesis that metformin is protective against cancer. However, based on the current preliminary findings, it appears that metformin is not an effective treatment alone for unselected patient populations or larger number of patients. Therefore, we recommend that combination therapies with metformin as well as potential novel biomarkers that could identify patient populations sensitive to metformin treatment should be pursued. Further studies are needed to improve our understanding of the pathways linking high metformin efficacy and cancer development.
Overall, the biological effect of metformin on cancer cells is based on its ability to activate AMPK or inhibit downstream growth factor signaling through inhibition of mTOR. Metformin also has indirect effects on the IGF and JNK/p38 MAPK pathways; other possible mechanisms include inhibition of the HER2 and NF-κB signaling pathways. Further support for these observations is that metformin kills cancer stem cells and changes the properties of CSCs. Nonetheless, a large number of further translational studies are required to evaluate the potential of metformin as an additive antitumoral agent.
Declarations
Authors' contributions
YL and YY designed and wrote the manuscript; YL and XL designed the figure and table; EK and CQ revised the manuscript; YL and JZ co-designed, reviewed, and finalized the manuscript. All authors read and approved the final manuscript.
Acknowledgements
This work was supported by National Natural Science Foundation of China (NSFC) Key Project 81130046 (to JZ); NSFC81171993 (to YL) and NSFC81272415 (to YL); Guangxi Key Projects 2013GXNSFEA053004 (to JZ); Guangxi Projects 1355004-5 (to JZ) and 2012GXNSFCB053004 (to YL); Guangxi Ministry of Education 201202ZD022 (to YL) and 201201ZD004 (to JZ). The authors thank Ms. Xin Huang and Ms. Xiaolin Zhou for editing.
Competing interests
The authors declare that they have no competing interests.
Open AccessThis article is distributed under the terms of the Creative Commons Attribution 4.0 International License (http://creativecommons.org/licenses/by/4.0/), which permits unrestricted use, distribution, and reproduction in any medium, provided you give appropriate credit to the original author(s) and the source, provide a link to the Creative Commons license, and indicate if changes were made. The Creative Commons Public Domain Dedication waiver (http://creativecommons.org/publicdomain/zero/1.0/) applies to the data made available in this article, unless otherwise stated.
Authors' Affiliations
(1)
Key Laboratory of Longevity and Ageing-related Diseases, Ministry of Education, Nanning, P. R. China
(2)
Center for Translational Medicine, Guangxi Medical University, Nanning, P. R. China
(3)
School for International Education, Guangxi Medical University, Nanning, P. R. China
(4)
Department of Urology and Pathology, School of Medicine, University of Michigan, Ann Arbor, USA
(5)
Department of Nasopharyngeal Carcinoma, State Key Laboratory of Oncology in South China, Collaborative Innovation Center for Cancer Medicine, Sun Yat-sen University Cancer Center, Guangzhou, P. R. China